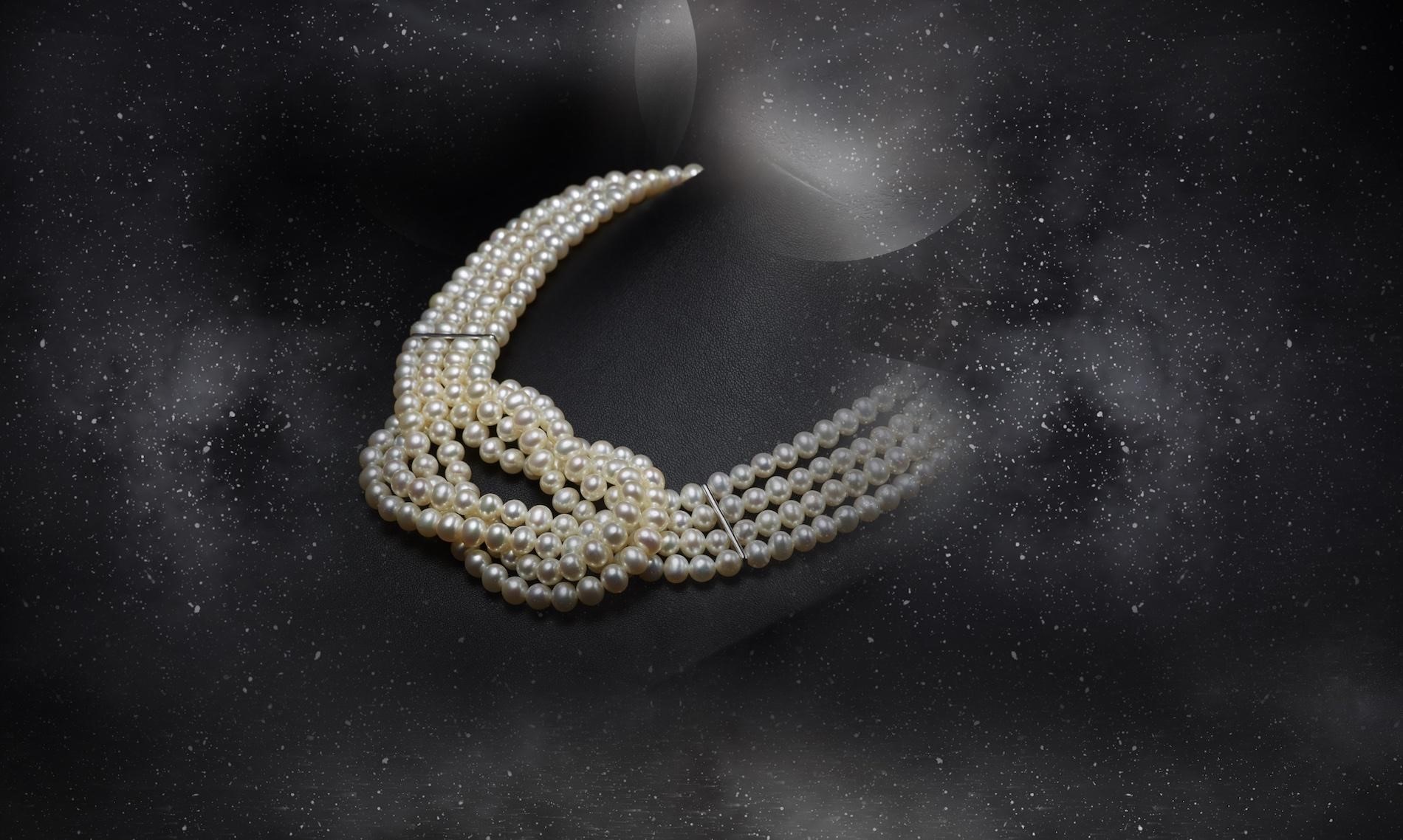 The alias Andaman Pearl not only describes the geographical value of Phuket, Thailand's southern part province but also indicates precisely the product for which the region is famous.
It can be said that Phuket is considered to be one of the best pearl breeding sites in the world.
Pearl is one of the gems that is commonly used in jewelry without being cut like other types of gemstones. Pearls are classified into two types. The first is a natural pearl, and the second is a cultured pearl. The latter pearl is preferred for a wide range of jewelry. Currently, cultured pearls account for more than 99 percent of all pearls sold globally.
In Thailand, three types of pearls are produced: Mabe, Akoya, and South Sea. The following are the specifics of each type of pearl:
Mabe (or blister) develops in the Penquin clamshell over the course of a year. The oysters are hung in a line of 10-15 after the nucleus has been inserted into the clamshell.
Akoya (size 2-9 mm) are grown in pearl oysters called Vulgaris. The process of implantation of the nucleus is very difficult and at the end of implantation all shells are re-tested. The period of cultivation may last from six months to 2 years.
South Sea pearls (diameters ranging from 9 to 20 mm) are among the largest. Pearls come in a variety of colors. Pinctada Maxima oysters are used in the production of South Sea pearls. Oysters can be implanted with large nucleus due to their large size. Pearl formation takes about 2-3 years.
Apparently, pearl faming is one of the local industries of this Thailand's biggest island and the oldest and largest pearl farm is 'Phuket Pearl'. Their pearl farming success stems from their grandfather's generation, who began the pearl farming business in 1967.
The unique experience that accumulates over more than half of a century combined with continuous learning development leads their pearl to a perfectly round and gorgeous shine.
Since the pearl is the only gem created by an aquatic animal, as opposed to other gems that are mostly made of stone and minerals, pearl cultivation requires nurturing with utmost care and extreme tenderness.
In the beginning, pearl farming appeared to be the household business until Phuket Pearl achieved success in research and experimentation on Spherical Pearl or Round Pearl which is the rarest shape for a cultured pearl in 1992.
A year later, the company had a fully integrated pearl farming production process that included everything from breeding and farming pearl oysters to producing and designing pearl jewelry and opening shops to sell the products.
This success, by working with several universities to conduct research on pearl cultivation, elevated the company from a family business to the manufacturer status of Phuket Pearl Industry Co.,Ltd., which it is today.
However, they went one step further by inventing Rather Round Pearl (R.R.P.) and registering it as a trading secret with the Department of Intellectual Property in 2003. The RRP is a gold-rainbow-colored hybrid of the distinctive South Sea Pearl and the Mabe Pearl.
Meanwhile, since 2004, Phuket Pearl has received numerous awards for product innovation, craftsmanship, and business management, as well as for its international standards.
Therefore, there is no doubt that cultured pearls from Phuket Pearl are highly valued for their superior quality and are recognized as the one-of-a-kind exquisite design of pearl jewelry.
For example, Phuket Pearl received GIT GEM & JEWELRY DESIGN AWARD 2008 by the Gem and Jewelry National Institute, the Outstanding National Farmer Award in the field of Brackish Water Aquaculture 2009, excellent National SMEs in Accessory and Jewellery in 2011 and Quality persons 2013 of fashion business category from Foundation of Science and Technology Council of Thailand.
So, Thai pearls are certainly second to none and can compete with pearls from other countries.
Another distinguishing feature of Phuket Pearl is that the company has been chosen to design and create several crowns for various beauty pageant stages included Miss World Singapore 2012, Miss Thailand World and Miss World Switzerland 2013, Miss Thailand World 2014, Miss Thailand World and Miss Myanmar World 2015 - 2016, and Miss World Australia and Miss Grand Phuket 2017.
Aside from delicate design and exquisitely crafted pearl jewelry, Phuket Pearl values the importance of workplace safety and environmental concern; thus, the company strictly adheres to the Ministry of Industry's Green Industry guideline, leading Phuket Pearl to sustain itself on the path with great potentiality care to the environment.
Although fierce competition among pearl suppliers around the world, the quality of Phuket Pearl's saltwater pearls remains at the forefront of the industry, with a thicker surface and luster.
The brand is currently the main exhibit in many private collections. The manufacturer's extensive collection includes gold and silver earrings, rings, necklaces, and other jewelry. Phuket Pearl Farm was the first on the island, and it is where the development of this industry began.
Andaman Pearl will be another attraction to visit this luster island of Thailand, as Phuket is a world-renowned resort island with crystal clear sea and white sand beach that draws both Thai and foreign travelers each year.
Words by Nongluck Ajanapanya
Sources:
https://www.phuketpearl.com/our-story.html
https://www.thaitextile.org/th/insign/detail.350.1.0.html
https://online-phuket.com/pearl-jewelry-phuket
https://www.bangkokpost.com/learning/advanced/260630/pearl-farming-in-phuket