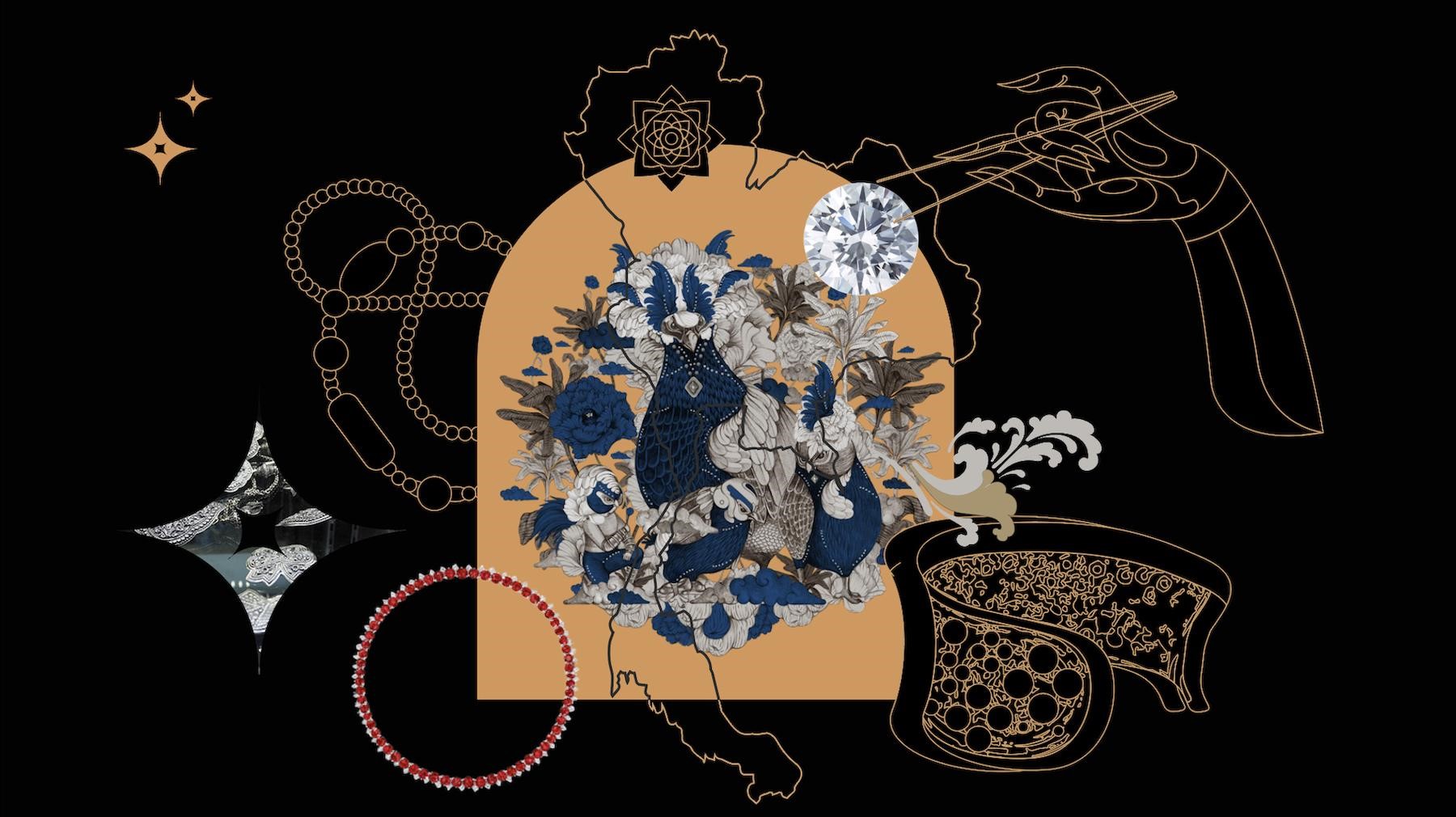 Thailand is globally renowned as one of the world's gem and jewelry hubs for a reason. With abundant natural and intellectual resources, the country has been blessed with craftsmanship and cultural heritages of gems and jewelry making. Here are some of the important gems and jewelry districts across the country that have shaped Thailand's gems and jewelry industry.
Chiang Mai: the heritage silver road
Wua Lai Road has long served as the center of Chiang Mai's jewelry making business. The area's silver jewelry shops, many of which are half a century old, boast a rich heritage. Legend has it that when King Kawila rebuilt the Lanna Kingdom after a 200-year Burmese occupation, talented silversmiths from across the region were handpicked to work on silverware and jewelry for the palace. The shop owners on Wua Lai Road are literally the descendants of these silversmiths who contributed to the beautiful and intricate designs associated with the Lanna culture. As the center of silver crafts of northern Thailand, the Wua Lai district offers a range of handcrafted products, from silver jewelry and silverware to home décor items made from silver.
Nan: the ethnic silver jewelry hub
Nestled among the mountains of northern Thailand, Nan is a small province with a long-standing heritage of silver jewelry making, originating from different hill tribe peoples living in the area. The silversmith profession has been a proud pursuit for people in the province since 1972. In 1995, craftspeople involved in professions related to silverware handicraft, needlework, and textiles formed a group called 'Nan Chompoo Phu Kha Silverware and Handicraft', to gather artisans from the Mien (Yao) and the Hmong (Meo) clans. Together, they work on crafting silver jewelry and products, putting Nan on the map as a silver jewelry destination. Apart from tribal aesthetics, many companies in Nan currently embrace modern manufacturing methods and designs to offer a wider range of silver products.
Chanthaburi: the Capital of gemstone cutting and enhancement
A world-famous destination for colored gemstones, Chanthaburi is a main trading center of Thailand's gems and jewelry industry. The eastern province's history of gem trading can be traced back to the 15th century, thanks to its geography, which was perfect for gem mining. Chanthaburi's reputation as a gemstone source was elevated in the 19th century after the drastic decline in the production of rubies from Myanmar. Since then, Chanthaburi and Trat, a neighboring province, have become global suppliers of rubies and sapphires. Today, mining is no longer an industry; however, local traders source the best gemstones from Africa and bring them back for treatment and cutting, age-old skills that remain. Around 80% of exported gems are cut, enhanced, or treated in Chanthaburi. Located at the heart of the city, Chanthaburi Gems & Jewelry Center serves as a space to exhibit and trade various kinds of gem and jewelry products.
Nakhon Si Thammarat: the city of nielloware
A city of handicrafts, Nakhon Si Thammarat is famous for its silver jewelry and neilloware, both born from local wisdom. The province's nielloware, which is called 'Nakhon Nielloware' or 'Thom Nakhon' is very unique since it is carved by hand, instead of using acid like the process employed in different parts of Thailand, to create designs. In the past, nielloware art was considered a high art and used to make items for royal tributes. The complexity of the production, the skills required, and the right alchemy born from expertise all make Nakhon Si Thammarat nielloware distinctive and highly priced. The art of nielloware making has also been passed on from generation to generation, and the province is trying to preserve this exquisite art with training programs at local colleges.
Phuket: the Pearl of the Andaman sea
Phuket earned the nickname 'the Pearl of the Andaman' for a reason – in addition to its beautiful beaches, this large island is renowned for its pearls. Phuket's pearl farming business was started by Mr. Hong-Eang Sae-Taew and Mrs. Chun Tae-Taew, who learned about pearl farming from the Japanese and decided to open their own pearl farm in 1967. The farm, which is now known as Phuket Pearl Industry, is Thailand's first pearl producer with a fully integrated process. Pearls are harvested and cultivated primarily for use in jewelry. Today, there are several local operators who offer various kinds of genuine pearls, from freshwater pearls to loose pearls, mabe pearls and South Sea pearls. The pearls from the Andaman Sea are quality controlled and meet international standards.
Sukhothai: the gilded kingdom
In the olden days, the craftsmanship and beauty of Sri Satchanalai woven gold earned it the reputation of being among the most beautiful gold ornaments in the world. The process involves the melting of 99.99% pure gold bars, which is both dense and soft, allowing it to be shaped into very delicate pieces like thin golden threads that are then woven into intricate jewelry creations. Some masterpieces consisted of up to 1,000 golden strings woven together and strengthen with hidden melted knots. Today, goldsmiths continue to make gold ornaments the old-fashioned way in the jewelry shops along the Sukhothai-Sri Satchanalai Highway and in the villages off the main road. Designs include stucco reproductions from historical sites, gables inspired by ancient temples, and fine and contemporary motifs –all of which preserve and build upon the area's rich goldsmithing heritage.
Surin: the city with a silver legacy
Located north of the city of Surin, the Khwao Sinarin community is famed for its exquisitely crafted silver ornaments, including silver beads called 'Luk Pa Kueam'. Local villagers inherited silversmith skills from their Khmer ancestors hundreds of years ago. Today, a handful of skilled craftsmen continue to keep this legacy alive with ancient Thai and Khmer designs and production methods to make beads, earrings, bracelets, chains, rings, necklaces, and other jewelry. Another particularly complex Khmer method of working silver, called 'Takao', requires the meticulous twisting of silver wire into desired shapes and soldering them into place before other layers are built up, making highly intricate patterns. In the past, people considered silver ornaments to be sacred objects. Silver Pa Kueam and Takao items are therefore more than just decorations; they are sacred gifts meant to protect the owners.
Krabi: rediscovering ancient stone beads
The Khlong Thom district of Krabi houses archaeological sites where a varied collection of artifacts, dating back thousands of years, have been discovered. Some of the items include colored glass and stone beads, believed to be from ancient settlements and bead making from the 4th to the 9th century when Khlong Thom was thriving as part of the ancient Maritime Silk Road. The origins of some beads can also be traced to the ancient Mediterranean, the Middle East, Europe, Africa, and Asia, indicating extensive travel, trade, and cultural exchange. Today, such antique beads are of interest to local and international collectors; once excavated, sorted, and cleaned, they are made into interesting jewelry pieces. Once seen as unlucky, as they were often associated with grave sites, these small treasures are now highly coveted commodities offering glimpses into history.
Jewelry Trade Center (JTC): Thailand's main trading centers for gems and jewelry
Located in Bangkok's bustling business district of Silom, the Jewelry Trade Center (JTC) is a 59-story mixed-use complex that is considered to be one of Thailand's most important trading centers for diamonds, precious gems, rough gemstones, and assorted jewelry. It is widely regarded as a hub for the supply of gems and other jewelry to the international market, playing host to more than 300 retailers and 1,500 wholesalers. This includes skilled international jewelry makers who offer a range of unique, ready-made pieces as well as jewelry setting, resizing, and custom jewelry making services. Moreover, gem laboratories located on the premises afford peace of mind to customers as they can examine and certify the authenticity of each gemstone or jewelry item.
Words by Voralak Suwanvanichkij